HISTORY OF THE RAIDERS
The Raiders Football Club has been West Edmonton's Bantam Football organization since 1967! Since our inception, the Club has been located at various west Edmonton communities with a variety of names. It wasn't until 1998 that we set up our new home adjacent to St. F.X. High School (163 St. and 93 Ave.), where we still reside today. We are part of the Capital District Minor Football Association (CDMFA) and are registered under the Societies Act of Alberta.
Peewee & Atom Programs join the Raiders
A PeeWee program was introduced in 1993 to compliment and enrich skill development of our young athletes before they reach Bantam age. Then in 1997 the Raiders added an Atom team, for players the age of 10 and under, further helping in player progression, development and camaraderie. Our programs have proven most successful both on and off the field. Our skilled coaches concentrate on player/team development and appreciation of the game of football including the necessities of good sportsmanship.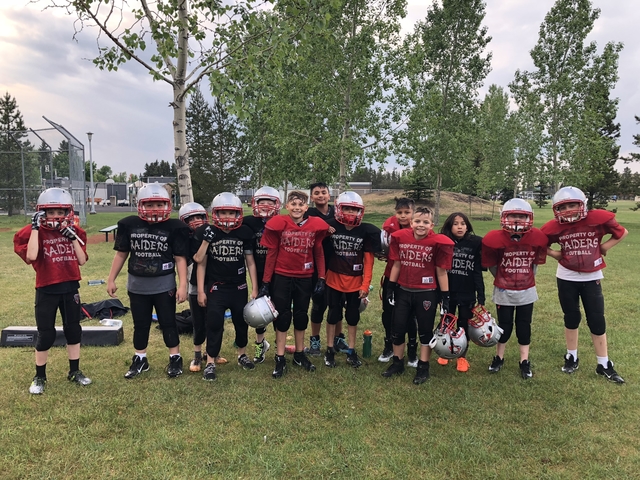 Midget Football invades the Raiders
For the past decade, the Raiders have also enjoyed Midget (high school) football from February to May. However, based on upcoming Football Canada rule changes to the amount of contact that our players can see in a calendar year, the Raiders chose to retire their Midget program in 2019 to allow its players to participate in High School football. Should Football Canada's upcoming changes allow for a Midget team, the Raiders might again field a Midget Program.
1st ever Tier 1 Female Midget Champions
Not ready to give up Midget (high school) Football yet, the Raiders jumped at the chance to offer contact football to Midget aged Females. 2019 was the inaugural season of the Female league, and the 1st ever, Female Raiders Midget team. Facing off against the Wetaskiwin Warriors, the Leduc Cats and the St. Albert Valkyries, your very own West Edmonton Raiders Female team of only 8 players won the first ever Tier 1 Championship. We are very proud of these trailblazers and we look forward to seeing the results of their pioneering.