PREVIOUS RECIPIENTS:
2019 Luke MacNeil Recipient - Jackson Walls
I would like to start by saying how very surprised and overwhelmed we are not only to be nominated but as well to be accepted for this scholarship. We so humbly and graciously appreciate it.
Our experience and knowledge of this great Raiders Organization came to us through another Raiders player that lived in our town at the time. This peewee and then bantam player took Jack "under his wing" and mentored and coached him for years. Showing us first-hand what it meant to be a Raider.
So 2 1/2 years ago when we finally moved into Edmonton is was an obvious choice for Jack to try out for the Raiders team. We had no idea what a life changing experience it would be.
All the athletic and personal growth that this football team has brought Jack plus all the multiple opportunities to play with so many different players and outstanding, accomplished coaches is a blessing that we will be forever grateful for. This is Jack's 7th year of playing football and never has he grown as much as he has in the past 3 years since becoming a Raider.
Jack's dad, Kent Walls, was one of these outstanding minor football coaches from 1991-2001. He had the awesome opportunity to be part of so many coaching teams that help develop some of the pro athletes that we see today. You could say that Football is in Jack's blood.
Kent became quite sick over the past several years and was able to physically do less and less. Knowing that his time was coming soon, Kent pushed himself for 'his boy' and tried coaching once more this time for the Raiders in their 2017 season. Even though he couldn't step much on the field due to his ailments, most days he was at least able to coach from the side, making notes etc. It almost tore him apart not being able to get out there, to not be able to throw the ball around more.
Kent had so much pride for his son and the strong player he was becoming. How Jack wasn't just a team player but with the Raiders he was part of a family. To Kent, family was everything and he got much peace knowing that the Raider family would be there for Jack and was as for myself after he was gone. You see, it's just not the players who got each other's back but it's the parents too. You don't see this in any other sport and rarely ever see it in any other team. The Philosophy of, Never leave someone behind, is not only on the field but it has been so overwhelming shown to us off the field as Kent passed away on April 6 2019. Thus Jack is dedicating this 2019 Football season to his dad.
God Bless each and every one of you Raiders Family. Thank you for making a very tough and trying situation into one of peace and full of love. We humbly thank you from the bottom of our hearts. To the extra special person who nominated Jack and to the board members for accepting it,.... to some it may be just a registration fee but to us it's a game changer. Thank you.
From Jeanine Wegner (mother of Jackson Walls)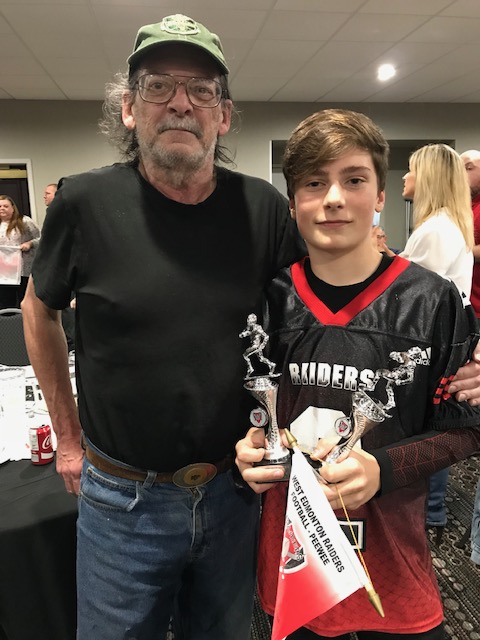 2018 Luke MacNeil Recipient - The Jenkins Family
My name is Andrea Jenkins, and I have been involved with the West Edmonton raiders both minor and midget football leagues for over 10 years now. I first became involved with the organization when I registered my twin boys who were bantam players at the time and my youngest son Jordan who was a first year Atom whom not only stayed with the Raiders throughout the years but also went on to play with the JP Rebels and eventually the Edmonton Huskies.
Over the years I have played many roles within the organization from volunteering in the clubhouse, at Edmonton Eskimo games, selling 50/50, acting as a Board Member and even a Trainer of which I thoroughly enjoyed doing. It was always a struggle as a single parent financially; however, it was important to me to have my boys involved in a sport that provided discipline, motivation and developed character.
One of the greatest things I loved about being a part of the Raider family was the lifelong friendships that were made, many of which are now like family, and the camaraderie within the children's families, which exuded team spirit and most importantly a sense of community and belonging. I am most appreciative of the individuals who always were willing to help me out to provide rides for my boys to games if needed as it was often a challenge to be at 2 different places at the same time.
After many years, I was actually happy to have a break once my youngest son played his final year of midget football, although bittersweet as I loved being a part of the Raider family and was truly going to miss being around the field as it is completely different once they move on to high school football.
In February 2016, I took four of my grandchildren into my care. Here I was with grown children and I was starting all over again. I wanted my grandchildren to participate in some sort of sporting activity as I felt it was very important for them to have structure and stability in their lives considering some of the trauma they had experienced. Their uncles were always a positive influence on them and the children always enjoyed watching them play football. It was a very easy decision to make. In May 2017, I registered two of my oldest grandsons with the West Edmonton Raiders and this year I was very excited for my granddaughter who decided she wanted to play football also. As difficult, as it has been as a single parental provider and maintaining a full time job, I am very grateful for the support given to myself and my children and now my grandchildren through the West Edmonton Raiders.
Being chosen to receive a scholarship on behalf of a previous player, Luke Macneil is truly an honour, as I had the privilege to know him personally as a trainer on the Bantam team and as a teammate and friend to my twin boys Liron and Jerel who also were Bantam players at the time he played.
The West Edmonton Raiders have been a huge part of our lives and I would like to say a big thank you for all the opportunities given.
Once A Raider Always A Raider, a quote our family takes to heart.
Sincerely,
Andrea Jenkins